M-Commerce Application Functional Testing Increases Seamless User Experience

Client
A leading online retail business specializing in offering an extensive range of products in various categories, to cater to different interests and needs. With a strong presence in the digital marketplace, the company aims to provide a seamless and convenient shopping experience to customers worldwide.
Challenges
To assess the functionality of the M-commerce application and help them in providing exceptional customer experience thus ensuring a profitable business. In specific the store owner wanted to build rapport with their customers and, in turn, make them come back for more because of their experience with the mobile application. He further asked us to improve customer satisfaction wherein they could get valuable referrals for even more downloads& app ratings. Having understood their domain our team was supposed to identify the bugs before its launch.
What We Did
Our QA test engineers having studied the client requirement wrote test cases for M-Commerce application functional testing. We did full round of functional testing to make application more reliable. Formulated various test cases to check the functionality of the mobile application that makes it possible for people to buy on the go, notify them about sales and special offers or let them know when items they want come back in stock.
Test the responsive design of the m-commerce application in mobile devices of various screen sizes.
Tested the functionality of Features like push notifications, wish lists, and product filtering, sorting
Tested if client address is geo tagged to suggest them the nearest store
Check whether or not any available offers, coupons, or deals are displayed to the customer
Payment Options, customer loyalty program working nature & total amount display within the cart including taxes as per locations
Check the payment is processed correctly by using all kinds of payment methods such as Debit Card, Credit Card, Internet Banking, PayPal, etc.,
Options to automatically save client address, billing & shipping details for future purchases, various other valuable insights.
Post-order use case such as cancelling the order, returning the product, tracking details, order summary details, etc.
With every update a new functional testing cycle is recommended to make sure that the functionality is not impacted. Further to it we tested the app's performance in the face of real-world situations and ensured end to end functionality of the mobile application such as user experience, secure transactions, mobile responsiveness, customer data security, load time, etc.
Technologies Used
Java
Android
iOS
MS SQL
React.js
ANGULAR
Schedule a discussion with our testing experts to discuss your mobile application testing needs. We can ensure to verify things from the user's perspective.
VAPT Testing Services provided for the Banking Sector client
Client
Banking services provider adopting banking software to provide superior digital banking service and thereby aiming to maximize operational efficiencies for their customers.
Challenges
In order to provide superior customer service and to be at par with the competition in the market banking client needed us to identify all security weaknesses in web applications and mitigate the risk of misusing the network services. To enhance the protection of the online services against cyber-attacks they wanted our QA Engineers to provide VAPT Testing for their web based application.
What We Did
Banking apps are very sensitive, we being their outsourcing IT partner for testing services supported them to evaluate the web applications using security testing tools and discover all vulnerabilities in the target web application servers. We did application scan using various security testing tools (Web inspect, Burp suite, OSWAP, NMAP) across platforms, networks, OS and provided recommendations on countermeasures to fix the respective security issues. Our experts' solution controlled hacking of the target system with the testing report that holds recommendations on countermeasures to fix the respective security issues.
Technologies Used for the Web Application Testing
Benefits of VAPT Testing Services
By outsourcing the testing services, they were able to catch potential issues beforehand
Increase the app ratings, improve customer satisfaction, gain referrals & more downloads
Supported to exploit vulnerabilities in infrastructure, systems and applications
Uncovers application vulnerabilities and security gaps that could invite data leaks
Maintain compliance with laws and regulations at the federal level
To identify hack issues & fix the vulnerabilities, risks in your web/mobile applications and networking infrastructure using Scan tools contact us.
Performance Monitoring Solutions offered using Perfmon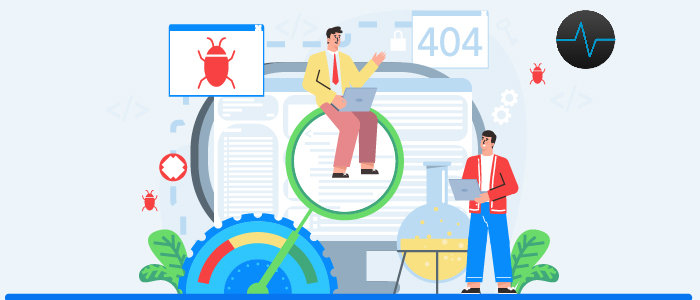 Client
A Public sector organisations that is concerned with social purposes and strives to deliver their services efficiently. Their focus was to cut down on inefficiencies by investing on server performance monitoring.
Challenges
IT administrators found few challenges like performance slowdown and few other intermittent errors in their server. It was difficult for their IT manager to overcome this inefficiencies and support for performance of their critical business application. They approached us to track these performance metrics and support to ensure optimal server performance.
What We Did
Our QA Engineers began their troubleshooting process by using Perfmon, a Jmeter plug in tool to collect performance data from the server. We supported them to monitor a wide range of system performance parameters, including processor utilization, memory usage, disk I/O, network I/O, and many others to sort out the problem.
All this data was collected over a period of several hours and was analysed to identify any performance bottlenecks. Besides, we also monitored network traffic to ensure that the system is not experiencing any network-related issues. By collecting, analysing, data we identified the root cause of the issue. After resolving the issue, we validated the solution and confirmed the health of the server. Our work enabled them to improve the overall user experience by ensuring that the system is responsive and performs well under load.
Technologies Used for Manual Testing of the ERP Application
Benefits of Performance Monitoring using Perfmon
Server upgraded as required with as much processing power or storage
Centralized location makes it simple for everyone within the network to navigate
Decreased hack issues & keeps organisations vital information secure
Provided scalability options as it's easily adaptable to growing networks
we can help you improve the quality of your deliverables, To know more about our manual testing services, contact us or leave an enquiry. We provide necessary testing support to fix any issues of an existing system or new developed product.