Usability Testing Services provided for Used Car Buying & Selling Application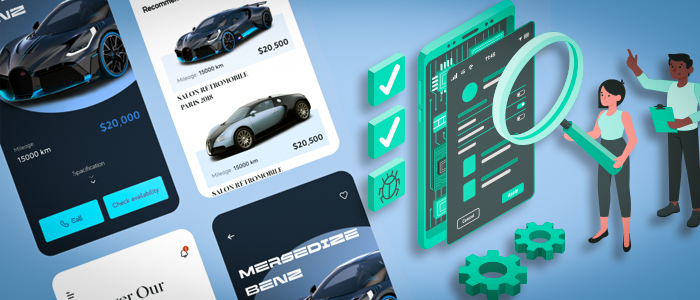 Client
Client does used cars sales online; they aim to make the buying experience faster & better for their customers with a mobile application. Besides this app, they have a team of experienced professionals who are always there to respond to customer queries and ensure a smooth business transaction.
Challenges
They wanted us to support them test their Mobile application for seamless user experience. In specific they outsourced the testing process to us and asked to device a test plan for all possible positive & negative scenarios and ensure the performance of these tasks will help achieve the objectives set.
What We Did
Our testing team devised an effective usability mobile testing strategy to conduct end to end functionality testing and eliminate the bugs post launch. Regression Testing & usability testing was done on real-time devices to understand the end client needs and ensure seamless user experience for end clients.
Ensured if registered user only gets connect with the seller after OTP verification.
Tested whether the car price auto populates based on the usage and manufactured date
Tested for relevant car spec getting sorted out for display
Checked if buyer gets updates on the wish list cars
Filter category functionality testing was done to verify filter option criteria
We checked for image clarity of all the cars to ensure users never consider leaving
Our mobile app usability testing services supported them to deliver reliable, high-performing apps that responds to user behavior and by paying attention to the most important ones.
Technologies Used for Regression & Usability Testing Services
JAVA
PHP
ANDROID & iOS
Selenium
Results
Improved customer satisfaction
Enabled gain valuable referrals for even more downloads
Helped Increase app ratings by making the app reliable
Decreased the release cycle time by 40%
Increased the cost effectiveness up to 70%
To know how ANGLER can help you deliver reliable mobile app testing services or help you optimize existing apps leave us an enquiry or Call Us.